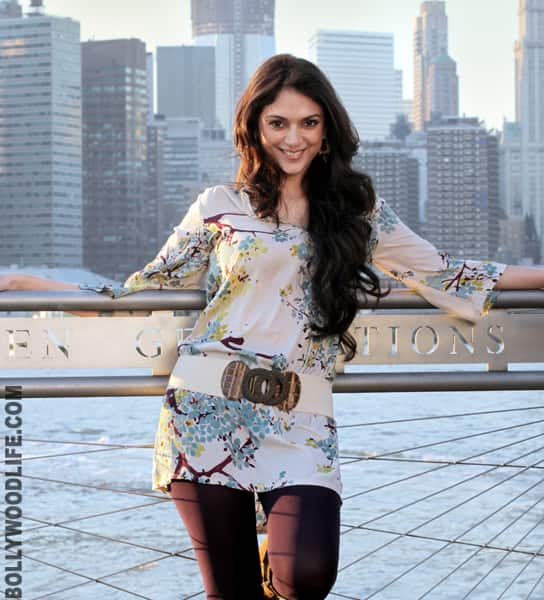 Her bit parts in Delhi 6, Yeh Saali Zindagi and more recently Rockstar were noticed and now she is playing the main lead in Anu Menon's directorial debut, London Paris New York
In a freewheeling conversation, the petite actor spoke of her first film as leading lady, her idealistic way of looking at life, kissing scenes and how her dance teacher threatened to spank her….
Weren't you wary of being branded a 'bold' actor after the kissing scenes in Yeh Saali Zindagi and Rockstar?
Definitely not. I don't think my roles in both films were bold. It was a bold step for me to choose to do those roles, but the scenes were organic. Particularly in
YSZ
– when a young married couple meets, they do not play badminton! There is a certain amount of passionate intimacy that is bound to happen. At the end of the day, I am glad I did the roles, because I did them for the right reasons. A respected filmmaker like Sudhir Mishra will not force in an intimate scene just for the heck of it. The same stands true for Imtiaz Ali as well. The scenes were meant to add to the film and not for mere titillation.
Tell us about your role in London Paris New York…
I identify with the character that I play, Lalitha Krishnan. She is an idealist and has her own unique way of looking at things, which leads to complications in her life. She is on a journey of coming into her own and understanding life. To know more you have to watch the film.
How did you get the role?
I am Destiny's favourite child. Some time ago I did an advertisement for a telecom company that got very popular. Around the same time the trailers of
Yeh Saali Zindagi
were being aired. The producer of
LPNY
, Goldie Behl happened to see the trailer and he wanted me to work with him. Coincidentally, my manager happened to be there at the time and things just fell into place. I received the script of the film and agreed to do the role after reading the first two pages. It was such a riot – I finished reading it at one go.
Weren't you apprehensive about working with a first time director?
I agree it is her (Anu Menon's) first film, but she has learned filmmaking in London and has made many short films and documentaries. She has also written the screenplay of
LPNY
and was very much in command of everything that was happening during the shoot. It was a wonderful experience and we had fun making the film. I hope the audience also finds it funny.
You seem to have lost weight…
Are you telling me that I was fat?
In Delhi 6 you seemed to be on the heavier side…
Well, that was because of the saris. I am surprised that I even got noticed in those saris! I felt very sad that I had to wear them and sometimes I felt like telling my director about it…
After your first film as a leading lady, would you still be open to doing parallel roles?
As a leading lady there is so much to do, compared to the supporting parts. I am a trained dancer and it is my passion and supporting roles seldom offer the opportunity to sing and dance. Of course there are some supporting roles that are brilliantly written and I wouldn't mind doing them, but from now onwards playing the lead role will be my priority.
As an outsider in Bollywood, I was naïve and thought that that nobody comes with an agenda, but over the years I have a much better perspective. My friends keep asking me to stop taxing myself for others, but some things just don't change. Getting back to the question – yes, I will do a role if it challenges me as an actor, because my craft comes before me. This is one lesson that I learned from my dance teacher, who warned me of a spanking if people spoke about my looks and not my dance after my '
arangetram
'. That is one lesson I will always remember: my craft is more important than me.
You Might Also Like