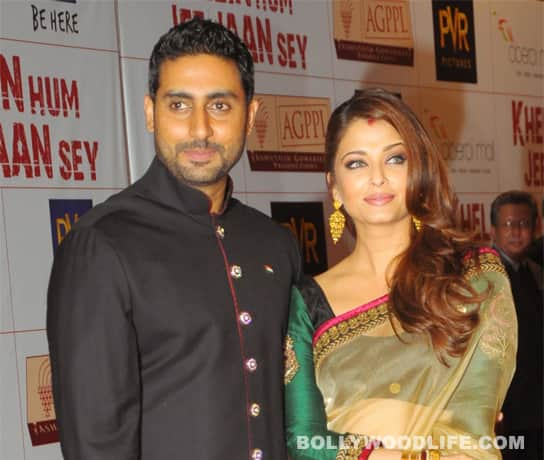 The Bachchans are not too happy about returning the signing amount of a film they never plan to do. But Rajkumar Santoshi doesn't plan to let it go…
A while ago, B-town was pleasantly surprised when
Amitabh Bachchan's
tweet declared Aishwarya Rai Bachchan's pregnancy. Filmmaker Madhur Bhandarkar who was depending on Ash for his mega budget film
Heroine
, openly lashed out at the lady for her unprofessionalism. But Madhur wasn't the only filmmaker who was left in the lurch by the Bachchans. Apparently, Rajkumar Santoshi had also signed the Abhi-Ash
jodi
for a sum of
Rs.
50 lakh for his movie,
Ladies and Gentleman
. But Santoshi refrained from letting this news make headlines. "The fact that Aishwarya and
Abhishek
are going to be parents is far more important than my film. But the role will no longer suit her," he had said. However it didn't imply that Santoshi had forgotten about his signing amount. Guess he was only waiting for the right moment to bring it up. And the perfect moment arrived last week when he paid the Bachchans a visit. After all, how much can one to wait around when big money is at stake, no?
Nonetheless, Santoshi was quite unruffled by the whole situation. And why not? After all it's obvious that the Bachchans forgot all about the signing amount lying idle in their kitty amidst the hullaballoo of Beti B's arrival, right? So giving them the benefit of doubt, Santoshi decided to hold no ill-will against them. "I will make a new film with them, perhaps next year," he told a tabloid. And it was all about to end on this pleasant note when a li'l birdie chirped that the
Bachchans
were not happy about the entire episode. Uh-ho! But we wonder why. Isn't it only fair to return the signing amount of the movie you are no longer doing? So, instead of sulking about returning the money, we think the Bachchans should graciously return the money. What do you think, Bollywoodlifers?
You Might Also Like